By Design, a Franchise is Less Risky than a Startup Business. Here's Why.
A few months ago I spoke to a couple who, when I met them, were validating a health and wellness franchise. Through discussions, it became clear that the candidates had a relatively low-risk tolerance and wanted a true semi-absentee business model. They are active, fit, and health conscious, so to them, the health and beauty business was a natural fit. They were enamored by the brand that they were already engaged with. I attempted to explain to them the risks associated with that particular brand but was unable to. They ultimately joined the brand and I have a strong belief that they will be very dissatisfied with their decision.
This experience has me thinking about risk and how to define, recognize, and mitigate it. Over several articles, I will explore franchise risk to enable people to make stronger decisions about which franchises are right for them.
The Franchise Model
In general, the franchise business model is a fabulous way of reducing the risk of business ownership. According to data from the U.S. Bureau of Labor Statistics, as reported by Fundera, approximately 20 percent of small businesses fail within the first year. From a statistical standpoint, the U.S. Bureau of Labor Statistics says franchises have at least two times the success rate of non-franchised businesses. The International Franchise Association agrees and points out many reasons franchise business owners are more successful in its Value of Franchising report. It states that franchise establishments drive 1.8 times higher sales than comparable non-franchise establishments and provide 2.3 times as many jobs. But the real beauty in franchising is not the statistics but rather the factors that drive the statistics.
Why Franchising Reduces Business Risk
Franchisee success relies on 3 complementary factors that power the franchise business model.
Proven Business Model
Leading franchise businesses, in general, come with a proven business model that is both repeatable and scalable. There is an operations manual, training, support, systems, and processes, all of which enable the franchisee to perform at a high level. Franchises essentially invest in a business in a box — a true opportunity to execute a successful model. This is extremely rare in the business world and one of the three reasons that enable the success of franchises.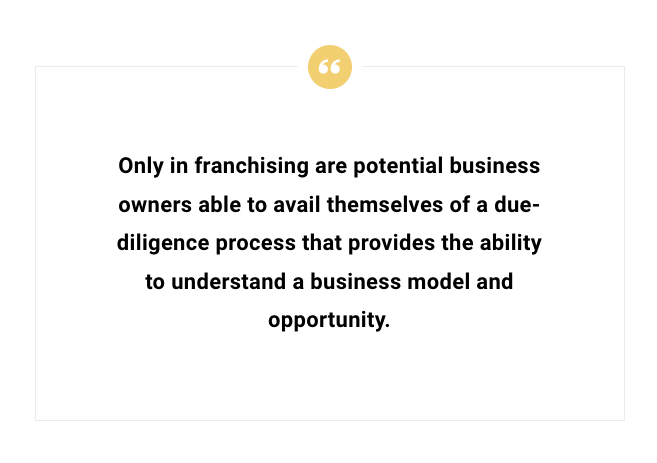 Available Information
Potential franchisees can understand, research, explore, and conduct in-depth due diligence to ensure the business model's quality and match the franchise brand to their skills, strengths, talents, interests, and financial expectations. Only in franchising are potential business owners able to avail themselves of a due-diligence process that provides the ability to understand a business model and opportunity. Potential franchisees will speak with the franchisor and current franchisees and explore the Franchise Disclosure Document. While talking with current franchisees, the candidate will have the opportunity to speak candidly with people who are already executing the business model. They will learn who succeeds and who struggles. They will be able to recognize whether it is an option that truly plays to their strengths or not. Indeed, conducting quality due diligence and ensuring your match to a particular franchise is one of the seminal concepts in all franchising.
The Right Candidates
The final factor that enables the success of franchising is YOU! This is an often overlooked factor in franchising. If you are reading this and considering franchise ownership, you have had a good degree of success in your career. The most successful franchisees are those who can parlay their skill set into a franchise and execute at a high level, just like they did in their previous careers. So whether you are a strong manager, leader, salesperson, operator, financially oriented, or have any other skillset, there is a franchise out there suited for you!
In addition to your past success, there is a simple truth: owners are better than employees. They are more committed, focused, and dedicated than employees. Additionally, business owners have a significantly higher self-esteem, confidence, and achievement drive than employees, which further translates into higher success rates.
The general franchise model, your ability to conduct due diligence and match yourself to a brand that will maximize your skill set, and the power of YOU as an owner truly drive franchising to another level. To learn more about calibrating risk, wait for my article next month! Happy franchising!